Our Team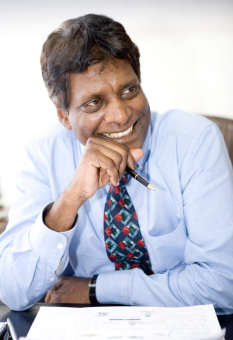 Cyril D.J PALAN
Chairman/Managing Director
Cyril has been involved in various capacities in the media industry for the past 40 years. He founded Logos Publicity Limited in 1987 and Logos Productions International Ltée in 1989. Today this full-fledged communication agency is amongst the leading agencies in Mauritius ranging in the Top 10 List.
Cyril Palan has served the Association of Advertising Agency (AAA) ,now renamed as 'Assoication of Communication Agencies of Mauritius' (ACA),  as secretary and vice-president for many years, and became its president in 2003. Re-elected president  of AAA for 2010-2012 and secretary for 2012-2013, 2014-2015. He is also a life member of the Association of Business Leaders, NC-USA, Alumni of Haggai Institute Hawaii, USA and National Director of YFC Mauritius.
In 2000, Mr. Palan was chosen amongst the 1000 Mauritian personalities for the CD-ROM 'Mauritius, a century', by Talipot ltée.
He started his career as an Art and Sculpture instructor at Centre de Roches-Brunes, which later changed its name to Centre Culturel Charles Beaudelaire, and recently 'L'Institut Français de Maurice' of the cultural programme of the French Embassy. He joined Publico in 1976 as an artist and later the client service department up to 1987. Meanwhile, he contributed as a freelance journalist to the Art and Culture section of the weekly Observer in the eighties and the morning daily L'Express for 10 years (1977-1987).